Polarizers
Because of its versatility, a polarizer is considered by many professionals to be the single most essential filter. It reduces glare, minimizes reflections, saturates colors, deepens blue skienhances clouds, and penetrates haze.

Tiffen Ultra Pol without Pol with Pol
______________________________
Polarizers are manufactured in two configurations: Linear and Circular.
A Linear polarizer transmits light in a straight (linear) pattern, while a circular polarizer transmits light in a cork-screw (circular) pattern.
A Circular polarizer is a linear polarizer with an additional layer of material known as a quarter-wave retarder plate. This plate causes light waves entering the polarizer to pass through in a cork-screw pattern, which in turn enables "beam-splitting" optical systems to deliver clear and accurate signals to the video tap.
A linear polarizer is not recommended with a beam-splitting optical systems because it can cause color shifts, inconsistent visibility, incorrect readings, and various degrees of black out.
____________________________

Gear-driven Pola Frames
A Gear-driven Pola Frame is a convenient and useful tool that enables camera professionals to "quickly" adjust the polarizer to its desired position without having to turn a stage of a matte box. It consists of a round polarizer in a mechanical housing which is driven by one, two, or three interfacing gears which permit the polarizer to rotate by the touch of a finger. Pola frames are the same dimensions as a conventional filter tray and fit in all popular matte boxes.
Gear-driven pola frames are available from the Filter Gallery in several universal sizes: 4x4, 4.5x4.5, 4x5.650, 5.650 x5.650, 6.6x6.6, and an oversized 6.6x6.6 for the Optimo lens.


______________________________________

Neutral Density Filters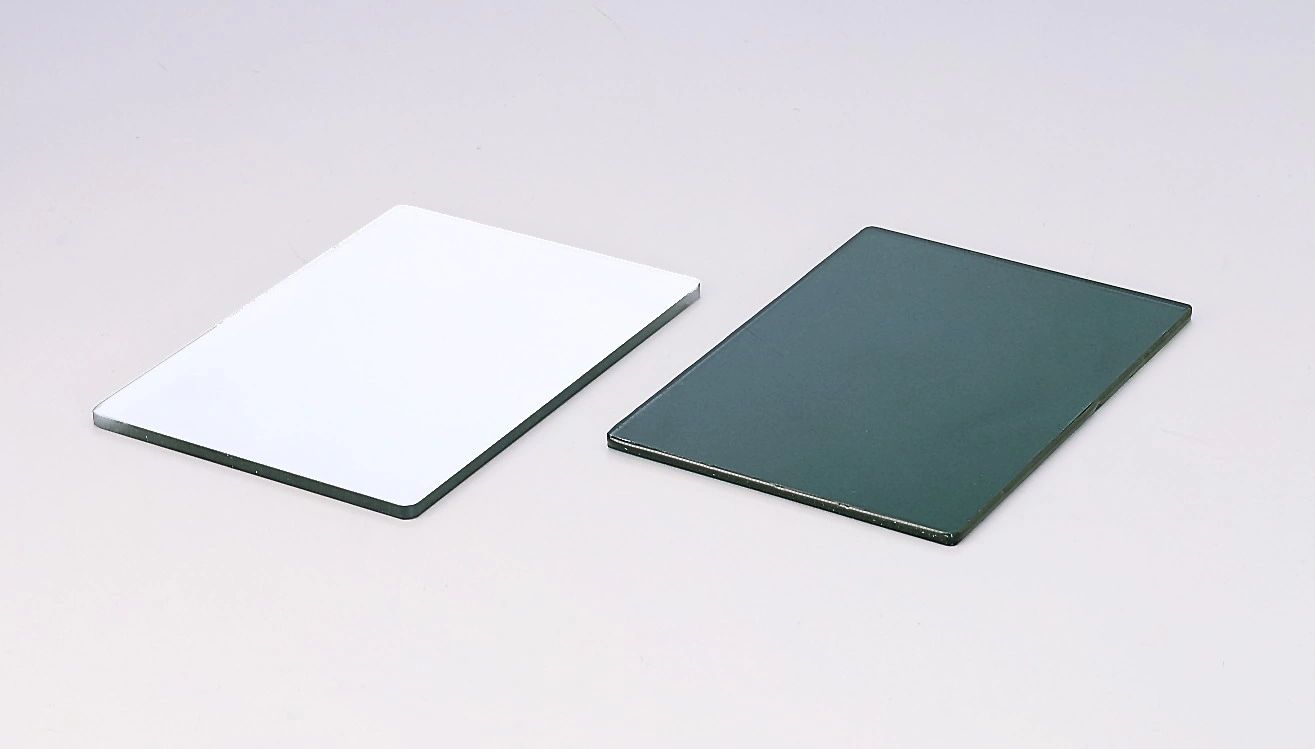 ND filters, are a series of accurate and additive degrees of neutral, which cut down on light without affecting color or contrast. Like polarizers, they provide several practical benefits:
• They allow high-speed film to be used during bright lighting conditions.

• They enable camera professionals to throw distracting backgrounds out of focus without compromising the sharpness of the foreground subject.
• They facilitate the use of wide apertures in bright lighting conditions.
• They enable uneven lighting situations to be properly exposed through the use of an Graduated ND or an ND attenuator.
• They can be combined with other filters and other NDs to achieve various effects.
ND filters are manufactured in two types: absorptive and reflective. The traditional or absorptive ND, which is gray in color and established by Kodak in the early stages of photography, works like most filters by "absorbing" light.
Reflective NDs are made from a mirror coating and "reflect" the light . The mirror coating, by virtue of not having any color, provides 100 % neutrality.
Keep in mind that absorptive NDs are not truly 100% gray.
In fact, gray is one of the most difficult colors to make because it contains a variety of colors.
Each filter manufacturer has its own recipe for achieving gray, each of which is manufactured to their respective standards of what they believe is proper gray.

NDs are available in solids, graduates, attenuators, center spots, and center clears as shown in the following illustration.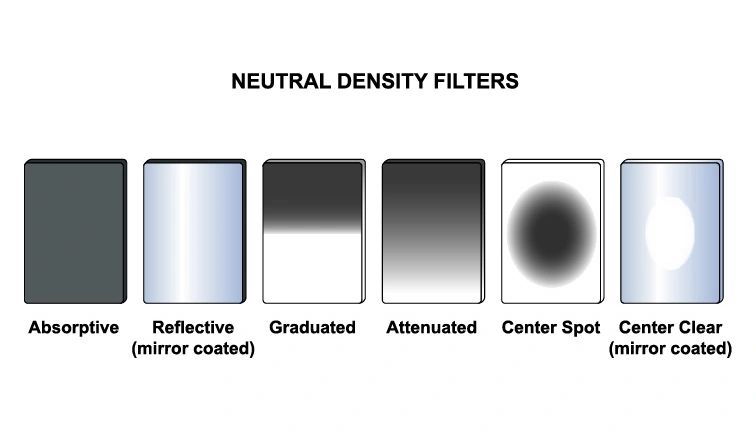 _______________________________